Marriage opponents protest D.C. church
by Michael K. Lavers

A handful of same-sex marriage opponents on Sunday protested a church in Northwest D.C.
Members of a group that calls itself Official Street Preacher stood outside the Foundry United Methodist Church on the corner of 16th and P Streets, N.W., in Dupont Circle as parishioners arrived for an 11 a.m. service. They held signs that read, among other things, Romans 1:24-32 states "your sin of sodomy is 'worthy of death'" and "homo sex is sin."
Ruben Israel told the Washington Blade that he and his fellow protesters were standing outside the Foundry to bring "real, true church to these people right here."
He said they are "most likely" in D.C. because of the oral arguments in the four same-sex marriage cases the U.S. Supreme Court will hear on Tuesday.
"It's a shock, it's an abomination to have a church that presents same-sex marriage," said Israel. "They can't produce one example of two men married in the Bible."
Israel said a man spit in his face, while another "wanted to get physical with him."
The Blade witnessed him and another protester heckle a man who dropped something onto the sidewalk in front of the church as he walked past of them. Another woman told protesters she "feels so sorry for you guys" as she walked into the Foundry.
Several officers with the Metropolitan Police Department were standing adjacent to the protesters as parishioners entered the church.
Tracy Collins, a D.C. resident who is a Foundry parishioner, told the Blade as he stood on the steps of church that the protesters "caught us quite by surprise this morning." He nevertheless said it was "an opportunity to engage and dialogue with people on the other side of the issue we don't shy away from."
"Everybody here is welcome," said Collins. "Even people with different opinions from the majority of folks in our congregation are welcome in our pews and welcome to engage in dialogue with us. We won't allow our members to be harassed, but everybody here is welcome."
The protest took place a day after hundreds of same-sex marriage opponents took part in a march and rally at the U.S. Capitol. National Organization for Marriage President Brian Brown, New York state Sen. Ruben Díaz and Family Foundation of Virginia President Victoria Cobb were among those who took part.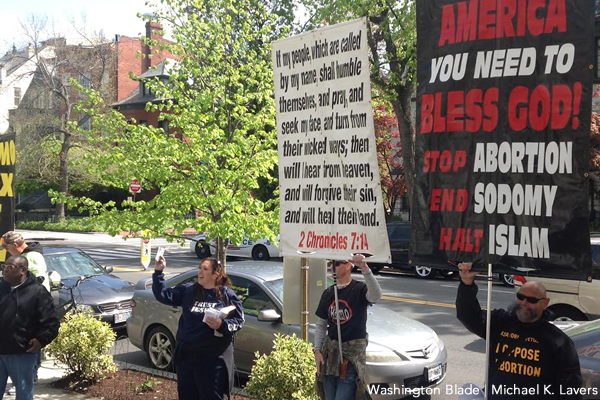 ---
Michael K. Lavers has been a staff writer for the Washington Blade since May 2012. The passage of Maryland's same-sex marriage law, the HIV/AIDS epidemic, the burgeoning LGBT rights movement in Latin America and the consecration of gay New Hampshire Bishop V. Gene Robinson are among the many stories he has covered since his career began in 2002.
https://www.washingtonblade.com/2015/04/26/marriage-opponents-protest-d-...